Details on the Mexico Travel Warning
On April 22 the US State Department issued a travel warning expressing the need for caution when visiting parts of Mexico. The State Department's warning was confusing because it sometimes named cites, other times it named states, sometimes portions of states, sometimes roads or borders. Overall it gave the reader the impression that much of Mexico is unsafe. This is an inaccurate perception and we would like to clarify the warning. We have furnished a link courtesy of Travel Weekly, a trusted source of news and information for the travel agency community.

The map visually presents a more accurate description of the warning.
Each named location contains a number key that refers to exact language about that location in the State Department's warning. This map will continue to be updated by Travel Weekly, as conditions in Mexico evolve.
The bottom line is that there are parts of Mexico to avoid, just as there are parts of LA, New York, or Washington DC that the prudent traveler ought to avoid. Cedar Travel is here to help you understand the fluid situation in Mexico and to advise you on where you can confidently plan a safe and memorable trip to Mexico. Our destination knowledge is what sets us apart! Give us a call today for the personal service that we are known for….we take time to care!


---
Cedar Travel has received a prestigious award from Minnesota's largest tour operator - MLT Vacations! The MLT STAR award recognizes our office as one of their top selling agencies in the United States.
We owe it all to YOU...our valued clients! Thank you for making us a member of this esteemed group of elite agencies! This award acknowledges that our clients are working with travel experts - and we are ready to help YOU today!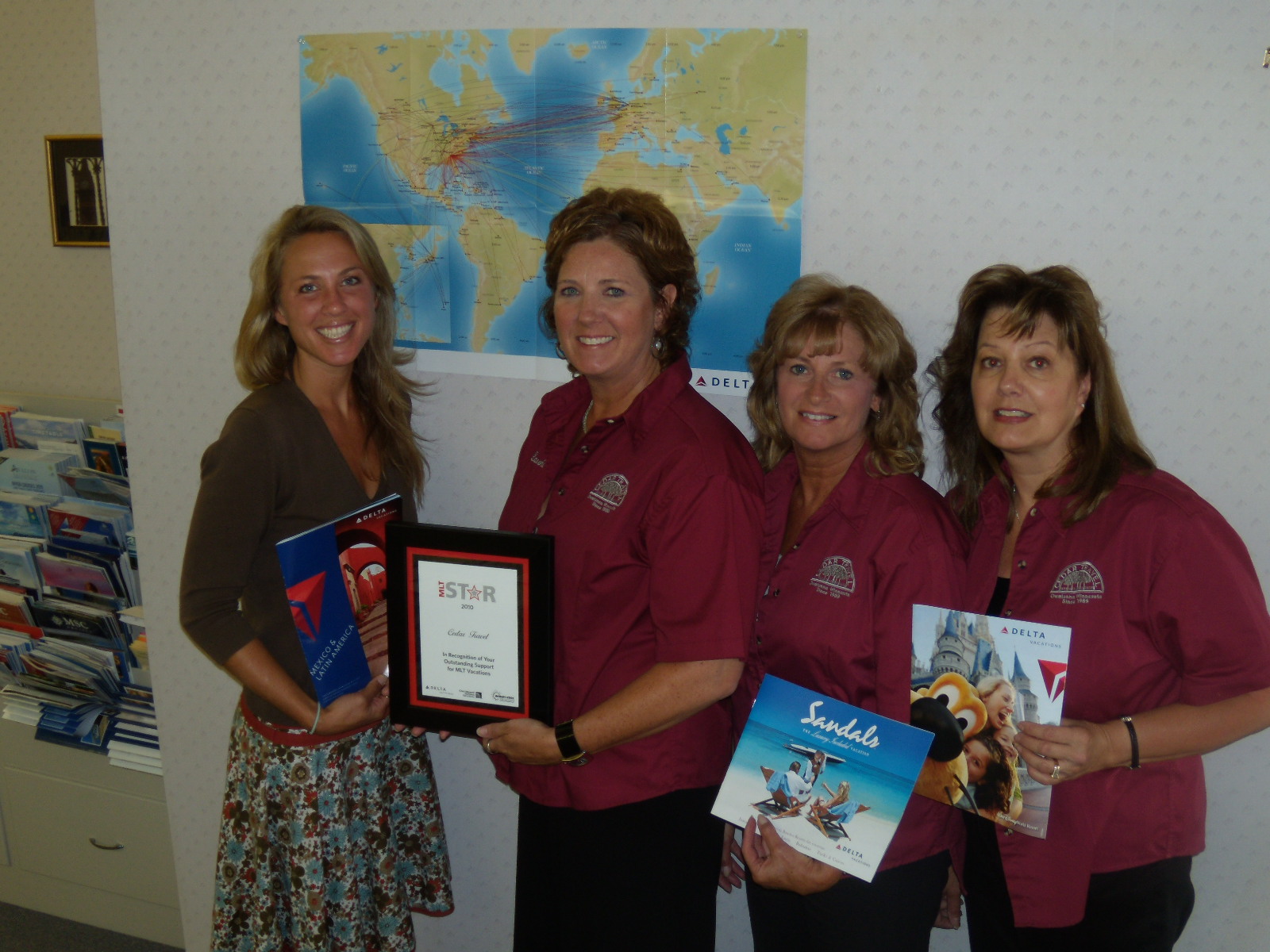 MLT Vacations presenting the award to Laurie, Colleen, and Ronda







---
Important Information about currency changes for travelers visiting Mexico:

Effective September 14, 2010 the Mexican Government passed a law that will limit and control the movement of American Dollars CASH within Mexico. The use of American Dollars CASH to make purchases in Mexico will not be as free as it has been in the past. Many repeat guests to Mexico who have become accustomed to using American Dollars in Mexico as though they were effectively in the United States will notice the difference.

Other payment methods such as credit cards of all types, Travelers Checks, and non American Dollar foreign currencies in cash (i.e. Euros or Canadian Dollars) are not affected in any way by this new law.
The most noticeable difference to Cedar Travel customers will be:
Hotels and Exchange Booths will only be able to change a maximum of $1500.00 USD per person per month into Mexican Pesos. Previously there was no limit.

Businesses will only be able to accept a maximum of $100 USD per transaction - but the number of transactions per customer are not restricted.

Certain businesses may not be able to, or may choose not to accept US Dollars for any purchase at all (this may include restaurants, shops etc)


For example, if a customer wishes to purchase an excursion that costs $125 US Dollars, $100 Dollars can be paid in US Dollars (cash) and the rest must be paid with a credit card or with MX Pesos.

CEDAR TRAVEL's advice is to inform you that you should not carry large amounts of US Dollars (cash) to Mexico, but instead you should consider either using a Credit Card, taking Mexican Pesos cash, taking Travelers Checks or withdrawing money locally in Mexican Pesos.